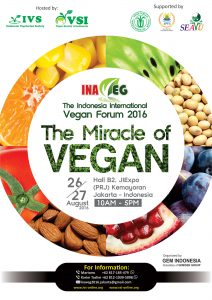 We are inviting everyone of you, who believes in  "The Miracle of Vegan", whose passion, whose spirit and live the life with it, to join the very first "The Indonesia International Vegan Forum 2016". The event will be held on Jakarta, the capital and the largest city, the most populous city not only in Indonesia but in Southeast Asia as a whole, the centre and the melting pot of Indonesian culture.
The Indonesia International Vegan Forum 2016 (INAVEG 2016) from 26th to 27 August, 2016, is expected to bring together academics, nutritionists, chefs, environmentalist, health experts, activists and so on from across the region around the world, to have keynote speakers, panel sessions, discussions and so on!
Indonesia, who is the largest archipelago in the world, which is made up of thousands of large and small islands, that makes Indonesia rich in various tribes, with each own culture, languange and distinctive culinary, that make cultural diversity in Indonesia. Indonesia Vegetarian Society, which is one of the largest vegetarian society in the world, the home of the President of International Vegetarian Union and Vegan Society of Indonesia, Dr. Susianto Tseng, promises you to experience and taste the Indonesia's diversity through vegan culinary food bazaar!